New Layout
As you may have noticed there are now two types of domain pages on AboutUs.org: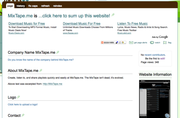 One kind (created by our old bot, pictured at left) has a main brown "edit" button in addition to edit pencils and default section headers like "Title" and "Description" and the other kind (created by our new bot, pictured at right) only has edit pencils and default sections headers like "About XYZ.com" and "Logo".
All new domain pages created since July 2009 are in the new format and we are working to make incremental improvements to the layout and functionality of them. We regret the inconsistency that having two types of pages causes and apologize for the inconvenience. In the near future we will be converting all pages into the new format and if you'd like any pages converted now email us.
The idea for this new layout change is to:
make pages more user-friendly and easier to edit for new people by using more fields, etc. (example pictured at right)
offer better site performance to our visitors and editors by reducing the MediaWiki-induced stress on our database.
Want the new format?
We will be converting all old style pages to the new format down the road, so it's a good idea to start working with the new format now so you can make pages pretty in a way that will last.
It's easy for us to take an old style page and re-create it in the new format. If you would like us to do that email Help@AboutUs - make sure to let us know which page(s) you want converted.
Some good examples of new bot pages
Feedback
If you have feedback or suggestions for how the default new bot pages could be better we would love to hear from you - post to our GetSatisfaction or contact us.